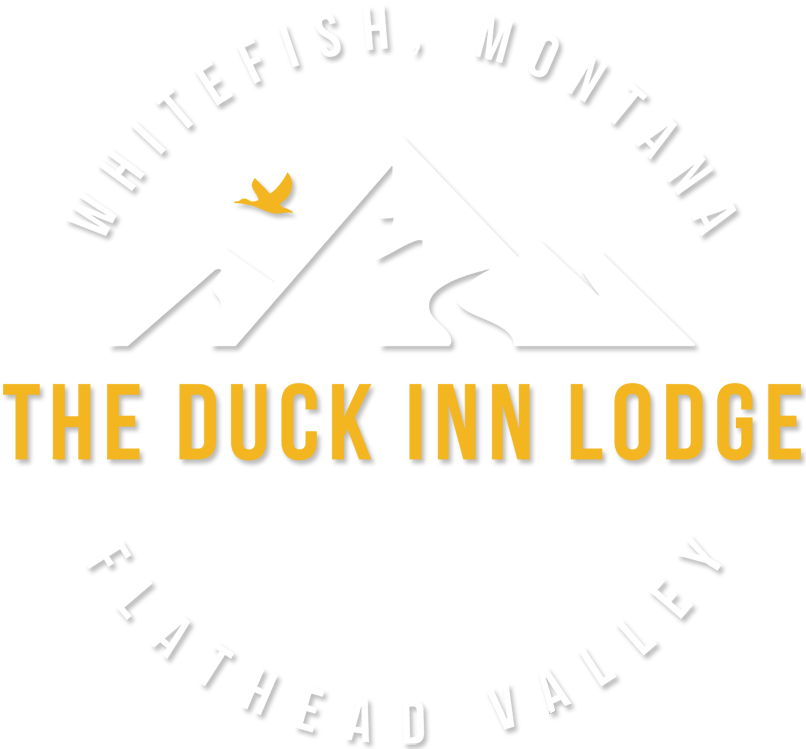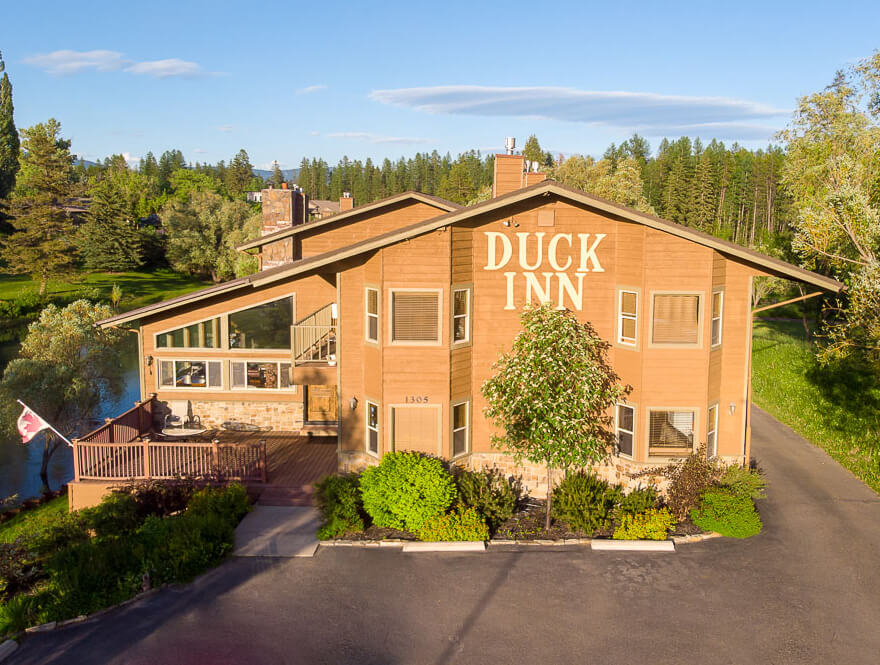 Welcome to the Duck Inn Lodge
WHITEFISH'S RIVERSIDE RETREAT
Come enjoy the warmth of the Duck while you play in the mountains! The Duck Inn Lodge is your relaxing getaway for Whitefish and Glacier National Park! 
We will be closed from Oct 16 – Dec 25 for a fall break as we get caught up on maintenance and projects and get a bit of rest ourselves.
Also, please note, we will also be limiting our operations for this winter season as we work on hiring and tweaking our operations.  Please visit our booking page to see availability.  If your dates are unavailable, reach out to us (duckinnlodge@gmail.com) and we may be able to make special arrangements.
Hear What People Are Saying
Excellent Lodge
This was our 2nd stay at the Duck Inn and again, our expectations were exceeded. Mark, Allysa and Tyler are relaxed and engaging and are always looking for ways to improve your experience.
Thanks for making this such a memorable visit (the evening banana bread was lovely).
We will definitely stay at the Duck Inn on our next trip to Whitefish.
Tom

Warm, Welcoming and a Great Location!
Location is lovely, we always like to support small business owners and it pays off. The owner and his partner are welcoming and there for all your needs, they even printed a couple copies we needed. The breakfast was fantastic and we are super picky! We will definitely stay here again.
Sarah

Best Value & Hospitality in Whitefish
We love coming to the Duck Inn for several reasons. We are close to downtown, by a scenic river and the hosts and owners here are simply amazing!! We have been here twice now and will definitely being coming back. If you stay here be sure to ask the owners (Mark) for tips on places to see and eat. They have great suggestions and deals for their guests.
Ken R

Overall We Had a Great Stay and Would Highly Recommend!
The Duck Inn Lodge was very inviting, warm, and friendly. We enjoyed casual conversation with the owner while being served a fantastic homemade breakfast. The king size bed was very comfortable and cozy. The location was just at the end of town away from the downtown area, but a beautiful view right on the river made it worth the 5 minute drive.
Thad

Great Place for Ski Trip
This was our second stay at the Duck Inn for a couple of days skiing at Big Mountain. Super comfortable beds and hearty breakfast. Baked egg casserole or waffles with fruit nuts and cream are a great start to a ski day. The in-room fireplace aided in drying our our ski clothes at the end of the day. Our skis dried off in the Duck Inn indoor storage room. 5 minute walk to the Snowbus (a free ride) to the top of the mountain. Beautiful view of the river and friendly hosts. We will be back.
Janice B

Lovely stay in Whitefish
Tyler, the co-owner, was a pleasure. Every morning he made sure I had cream for my coffee and made to order scrambled eggs! One morning right outside the breakfast window, a momma black bear and her 2 cubs strolled along the River!! Location was very convenient for the work I was doing in Whitefish—would highly recommend for anyone visiting the area.
Karin

We Absolutely Loved our Stay
My Husband and I stayed at the Duck Inn Lodge for our recent elopement at Glacier National Park. We absolutely loved our stay. The owners were amazing and surprised us with a cooler full of refreshments on our wedding night. They were very accommodating. The room was clean and so comfortable. We enjoyed the Jacuzzi tub every night we were there. The deck looking out to the river was a nice extra feature. We will definitely stay there again on our next trip to Montana!!!
Sara Lena

Making Every Day a Lasting Memory
We are Tyler and Mark, the owners of The Duck Inn Lodge. We are long time friends who grew up Pittsburgh, Pennsylvania, and built a friendship through a mutual affection of ping pong, among other things. 
Our Story began in January, 2016, with a fateful ski trip that we didn't yet know would change our collective lives.